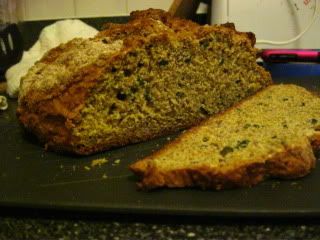 Irish Soda Bread
I know I'm too late for anyone (in this time zone, anyway) to make this for St. Patrick's Day, but I'd seriously urge you to consider making this bread for year-round consumption, as it is ridiculously delicious! I didn't know until this morning when I was looking for recipes, but apparently the raisin-studded soda bread that most Americans eat is actually something called spotted dick. Spotted dick, of course, being one of those things that turns up in British novels in order to make junior high students giggle.
Regardless, real soda bread is a wheat bread filled with crunchy grains. A bit too crumbly for sandwich bread, but would pair well with soups. It's just as good a platform for sinful amounts of butter as the American version, too. Trust me. Plus, the sunflower seeds react with the soda during baking and turn green, so it can match your beer! I don't mean that. Green beer is gross. Have a nice pint of Guinness or Harp like a sane person.
Recipe is from
Epicurious
and was reprinted from
this cookbook
. The online version (and presumably the print one) has a very interesting introduction if you care to go read it. I've modified it a bit based on what I could and couldn't find at Whole Foods and the fact that the dough didn't hit the right consistency until I'd added quite a lot of extra flour, but feel free to go try the original if you prefer.
Ingredients
* 1 3/4 cups unbleached all-purpose flour
* 1 1/2 cup whole wheat flour or graham flour, plus more for shaping*
* 3 tablespoons cold unsalted butter, cut into tablespoon-sized pieces
* 2 teaspoons baking soda
* 1 3/4 teaspoons salt
* 2 tablespoons granulated sugar
* 1/3 cup oat bran
* 1/4 cup untoasted wheat germ
* 2 tablespoons flaxseed
* 1/3-1/2 cup raw sunflower seeds
* 1 large egg
* About 1 3/4 cups buttermilk**
* Original calls for only 1 cup, but I ended up adding at least another 1/2 cup in order to get the dough to a workable dryness. You might want to start with one and add more as needed.
** I made my own, with about 1 3/4 tablespoons of white vinegar in 1 3/4 cups of regular milk.
Instructions
(copied directly, with my notes added in italics)
Adjust an oven rack to the center position and preheat the oven to 425°F. Coat a heavy baking sheet with vegetable cooking spray or line it with a silicone baking pan liner or aluminum foil (
I'm in favor of the last one
).
In a large bowl, stir together the all-purpose flour and whole wheat flour. Add the butter and work it into the dry ingredients with your fingertips until the fat particles are very fine (
This seemed incredibly weird to me, until I realized that the butter isn't supposed to absorb all the flour. Just mush it around with your fingers, pressing the flour into it, until you can run your fingers through the bowl and not find any lumps of butter
). Stir in the baking soda, salt, sugar, wheat bran, oat bran, wheat germ, flaxseed, and sunflower seeds.
Beat the egg lightly with a fork in a 2-cup glass measure. Add enough buttermilk to come to the 2-cup line and stir with the fork to combine well. Add the liquid to the dry ingredients and stir with a wooden spoon or rubber spatula until the dough gathers into a thick, wet-looking mass (
Much wetter than you think bread dough should be, at least in my experience
).
Sprinkle your work surface with whole wheat flour and scrape the dough onto it. Dust the dough with a bit more whole wheat flour (
I tried these two steps. Then I dumped it back into the bowl and mixed in a lot more flour. Tried it again. Ended up going directly from bowl to baking sheet, in the end
). Pat the dough into a circular shape about 7 inches across and 2 inches high and transfer it to the prepared baking sheet (If you haven't already done so. Dough will be kind of saggy and sticky and seem very wrong). Don't be concerned about evenness—the loaf should look rustic. Make a cross-shaped indentation on top of the loaf going right to the edges. I use a plastic bench scraper and press it into the dough very gently; don't actually cut the dough. During baking the indentation expands, giving the top of the loaf an attractive pattern.
Bake the bread for about 40 minutes (
I took mine out at 33 minutes
), until it is well browned and sounds hollow when rapped on the bottom. An instant-read thermometer inserted into the center of the loaf should register 195° to 200°F. Cool the loaf on a wire cooling rack, and serve warm or at room temperature. Cut into quarters and slice each quarter with a sharp serrated knife. Delicious with butter.
Storing:
The loaf keeps well at room temperature, wrapped in plastic wrap, for 2 to 3 days. The entire loaf or quarters of it can also be frozen when completely cool. Wrap in plastic wrap, place in heavy-duty resealable plastic bags, and freeze for up to 2 weeks. Thaw completely before unwrapping. If desired, refresh the bread in a preheated 300°F oven for 10 minutes.
Coming soon: more Wardrobe Therapy, plus paprikas and dessert recipes from the long-ago birthday party. Oh, and soft pretzels wrapped around stuff.