My twenty-fourth birthday was this past Monday, and, true to form, I decided to cook a whole lot of food for every person I know in this city. Fitting fourteen people into my tiny apartment turned out not to be quite as tricky as I'd imagined, and we had a lovely time stuffing our faces. Unfortunately, being used to feeding ravenous boys, I forgot that girls aren't quite as good at packing away food, and I ended up with enough leftovers that Kelly, Wells, and I still haven't finished them.
Somehow the theme of the food at my birthday party ended up being red foods... for appetizers I made the beet hummus from
my Christmas entry
, the Gruyère gougères from
this post
, everyone's favorite red pepper dip (finally putting up the recipe!), and my family's beloved bacon-wrapped water chestnuts (these leftovers were gone by morning). Sadly, I was too busy getting everything on the table to take pictures, so the hummus one is from Christmas, the pepper dip is the last of a batch Kelly just made, and the water chestnuts are from google.
Beet Hummus
From
Bon Appétite
June 2006.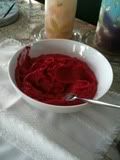 * 1 large (8-ounce) beet, peeled, cut into 3/4-inch cubes
* 1 cup drained canned garbanzo beans (chickpeas; from 15 1/2-ounce can)
* 3/4 cup extra-virgin olive oil plus more for chips
* 1/4 cup slivered almonds
* 5 garlic cloves, peeled
* 1 1/2 tablespoons (or more) red wine vinegar
Cook beet in medium saucepan of boiling salted water until tender, about 12 minutes. Drain; place in processor. Add garbanzo beans, 3/4 cup oil, almonds, and garlic. Blend until smooth. Add 1 1/2 tablespoons red wine vinegar and blend well. Season to taste with salt, pepper, and additional vinegar, if desired. Transfer dip to medium bowl. Can be made 1 day ahead. Cover and chill. Bring to room temperature before serving.
Serve with pita chips, crackers, or fresh vegetables. It's as good with or without almonds. Can be stored in the fridge for up to a week, and I'll let you know how it freezes when I thaw out the rest of this batch.
Red Pepper Dip
No idea where this recipe came from originally, but my mother and I have made it often enough that I think it can just be classified under 'family recipe.'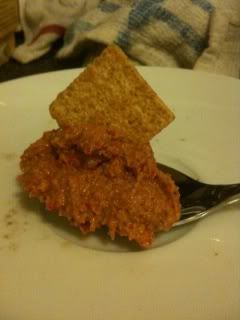 * 2 jars roasted red peppers (about 5-6 big peppers)
* 1/2 cup walnuts
* 1/2 cup raisins or dried currants
* 2 heaping tablespoons Greek yogurt
Chuck everything in the food processor and chop it up until it looks edible. Refrigerate overnight for the best flavor, or eat immediately to satisfy your eternal craving.
Best on sourdough toast rounds, Wheat Thins, or pita chips. Lasts about five days in the fridge.
Bacon-Wrapped Water Chestnuts
*
Another old recipe of my mother's, which she transmits to me over the phone every time I need it. Luckily this time
Wells
was kind enough to write it down. And, actually, make these. Picture from
here
.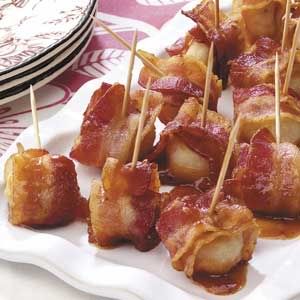 * 2 large cans whole water chestnuts (about 24-36 water chestnuts)
* 1 package bacon (I like the Trader Joe's apple-smoked type)
* 1/4 cup brown sugar
* 1/3 cup soy sauce
* 4-5 tablespoons water
* wooden toothpicks
Drain the water chestnuts. Cut the bacon strips into thirds (halves if they're short pieces), wrap around the water chestnus and secure with toothpicks. Mix the brown sugar and soy sauce together, adding tablespoons of water until it forms a thin paste. Roll the water chestnuts in the mixture and place close together on a shallow glass baking dish (I use a Pyrex pie pan). Drizzle the remaining sauce over them. Bake at 350 degrees for about 30-40 minutes or until the bacon is crispy at the edges.
Put the pan in the sink to soak immediately or you will regret it when you go to clean! Let the water chestnuts cool on a plate for a few minutes and then serve.
*This post is tagged vegetarian for the first two things. I don't recommend trying this with fake bacon.
I won't include the recipe for the gougères because I just made them, it's long, and you can just go to
the original post
. I also served the puppy chow with the appetizers, but you'll have to wait for the desserts post for that one. Or buy a box of Chex.