Ale Bread
by
Donna Hay
. Picture is from
here
because I forgot to photograph the one my mom made.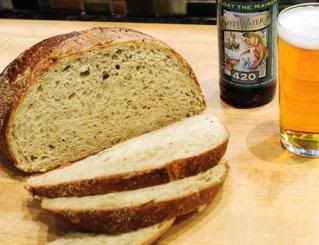 * 3 cups all-purpose flour
* 3 teaspoons baking powder
* 2 teaspoons sea salt
* 1 1/2 cups (12 fluid ounces) ale
Preheat the oven to 375 degrees Fahrenheit. Place the flour, baking powder, and salt in a large bowl. Make a well in the centre and gradually add the ale, stiring with a butter knife until dough forms. Turn out onto a lightly floured surface and knead for 5 minutes. Place the dough in a lightly greased loaf tin and bake for one hour or until the bread is cooked through.
My mom has made this before, but this time she accidentally used tablespoons instead of teaspoons for the salt, and the bread was only semi-edible. She had the brilliant idea to crumble it up, though, and use it in this recipe, which was made to be done with stale ciabatta bread:
Herbed Bread Crumble
In a skillet, heat 2 tablespoons extra virgin olive oil and 2 tablespoons butter over medium heat. Add 2 tablespoons finely chopped shallots and 1 finely chopped clove garlic for 1 minute. Pulse 3 1/2 cups bread cubes in a food processor until pea-sized. Add the breadcrumbs, 1 tablespoon finely chopped flat-leaf parsley and 1 teaspoon finely choppe dfresh rosemary to the skillet. Cook until the breadcrumbs are toasted. Remove from the heat and season with salt and pepper.
Not sure where that one came from, but we had it for dinner tonight (with some re-fried potatoes and other leftovers from New Years Day supper) and it was fantastic. I'm having the last of it, mixed up with the potatoes and some bits of pork, for midnight snack in a couple of hours.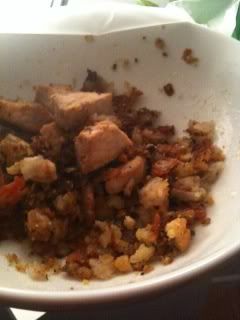 Mmm.