This is the last dinner my mom and I get to make together before I'm gone. Hopefully it's also the end of bad cell phone photos of food, as both these things were way prettier and more appetizing than the photos suggest. I wanted to make a fancy vegetarian dish but had to take my brother and my mom's boyfriend into account and ended up with salmon. Pretty delicious, anyway. The citrus salmon is from
The Food Channel
and I found the hush puppies in
Food and Wine
.
Citrus Salmon with Orange Relish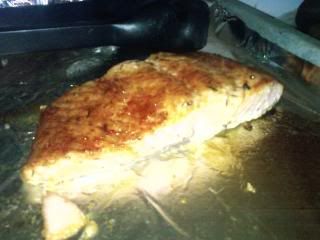 Ingredients



*
For the Citrus Salmon
: 1/4 cup orange juice
* 2 tablespoons olive oil
* 1 1/2 teaspoons thyme leaves,
divided
* 4 salmon fillets (about 1 pound)
* 1 tablespoon brown sugar
* 1 teaspoon paprika
* 1/2 teaspoon salt
*
For the Orange Relish:
1/2 teaspoon grated orange peel
* 2 seedless oranges, peeled, sectioned and cut into 1/2-inch pieces
* 2 tablespoons chopped red bell pepper
* 1 tablespoon honey
* 1 tablespoon chopped red onion
* 1 tablespoon chopped fresh parsley
* 1/2 teaspoon ground ginger
Preparation
For the Salmon, mix orange juice, oil and 1 teaspoon of the thyme in small bowl. Place salmon in large resealable plastic bag or glass dish. Add marinade; turn to coat well. Refrigerate 30 minutes or longer for extra flavor. For the Relish, mix all ingredients in medium bowl. Cover. Refrigerate until ready to serve.
Preheat oven to 400°F. Mix brown sugar, paprika, remaining 1/2 teaspoon thyme and salt in small bowl. Remove salmon from marinade. Discard any remaining marinade. Rub salmon evenly with paprika mixture. Place salmon on foil-lined baking pan.
Bake 10 to 15 minutes or until fish flakes easily with a fork. Or, grill salmon over medium-high heat 6 to 8 minutes per side or until fish flakes easily with a fork. Serve salmon with Orange Relish. (My note: The relish wasn't that special, but the marinated salmon with the brown sugar glaze was fantastic. I'd leave off the relish if I made this again, or find a different sauce.)
Hush Puppies with Remoulade
Ingredients
Hush Puppies
1 cup coarse yellow cornmeal
1 cup all-purpose flour
2 tablespoons sugar
1 tablespoon baking soda
2 teaspoons kosher salt
2 teaspoons dried oregano
1 teaspoon cayenne pepper
1/2 teaspoon freshly ground black pepper
3 large eggs, lightly beaten
3/4 cup milk
2 scallions, finely chopped
1 tablespoon vegetable oil, plus more for frying


Remoulade
3/4 cup mayonnaise
2 tablespoons whole-grain mustard
1 tablespoon ketchup
1 tablespoon cider vinegar
1 medium shallot, minced
1 scallion, finely chopped
Tabasco sauce
Salt and freshly ground pepper


Directions
Prepare the hush puppies:

In a large bowl, whisk the cornmeal with the flour, sugar, baking soda, salt, oregano, cayenne pepper and black pepper. In a medium bowl, whisk the eggs with the milk, scallions and the 1 tablespoon of vegetable oil. Stir the wet ingredients into the cornmeal mixture until just blended. Cover and refrigerate the batter for 1 hour.

Meanwhile, make the remoulade:

In a medium bowl, whisk the mayonnaise with the mustard, ketchup, cider vinegar, shallot and scallion. Season the remoulade with Tabasco, salt and pepper.
In a medium saucepan, heat 1-2 inches of oil to 325°. Set a large rack over a baking sheet. Drop 6 rounded tablespoons of batter at a time into the hot oil and fry, turning once, until the hush puppies are browned and crisp, about 2 minutes. Using a slotted spoon, transfer the hush puppies to the rack to drain. Serve the hush puppies hot with the remoulade.
The hush puppy batter can be refrigerated for up to 1 day. The remoulade can be refrigerated for up to 2 days
.
I recommend making these on an outside burner if you can, because your whole house will smell like frying, but they're completely delicious. Like a perfect version of the batter from a corn dog, with no hint of the gross hot dog part.