My mother, unlike most sane people, hates being given gifts, particularly by her children. This means that the only way to celebrate her and all the energy she expends on my siblings and me is to cook. Cooking for the person who taught you to cook is a bit nerve-wracking, but not as much as trying to find something that my whole family will eat. My brother, in particular, tends to poo-poo anything that isn't a burrito or chicken wings.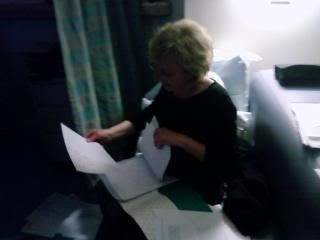 not appropriate birthday activity
I ended up making matzoh ball soup and pork-and-apple pasties, and was shocked to see that my whole family (plus our dear Chrissy)
loved
the meal. Elle should also get credit for making a salad, as well as molding the matzoh balls with Chrissy. Sorry about the awful photos, I forgot to take my camera along to the dinner and my phone doesn't cooperate.
Ridiculously Simple Matzoh Ball Soup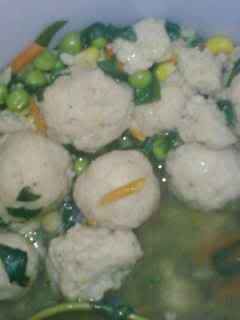 - 10 cups vegetable broth (I use Better than Bouillon vegetable base)
- 1 package Manischewitz matzoh ball mix
- 2 cups chopped spinach
- 1 cup frozen corn
- 1 cup frozen peas
- 1 cup shredded carrots
- whatever other vegetables you have lying about
1. Follow the package directions for the matzoh mix (mix two eggs, four tablespoons of vegetable oil, and both packets of matzoh mix), and refrigerate the mix for fifteen minutes.
2. Bring the broth to a boil. Form matzoh mix into little balls, a few centimeters across, and drop into the broth. Add vegetables and simmer for twenty minutes, stirring occasionally so the matzoh balls cook evenly.
Kentish Pork and Apple Pasties
(recipe from
The Daily Mail
Crust
(same recipe as usual)
2 sticks cold butter
2 1/2 cups flour
1/2 tsp salt
4-10 tbsps ice water
Cut butter, flour and salt together with two knives or in a food processor. Add water, a tablespoon or two at a time, until the dough sticks together. Refrigerate for an hour. I ended up doing this in two batches, because my food processor is on the small side, and dividing the dough into twelve balls before putting it in the fridge.
Filling
1 lb lean pork
2 large cooking apples
2 tbsps lemon juice
1-2 tsps dried sage
1 large onion
salt and black pepper to taste
one egg for glazing
Chop the pork into small chunks, finely chop the onion. Peel, core, and quarter the apples, and slice across the quarters into small pieces, tossing with the lemon juice. Mix the pork, onion, and sage.
If you haven't already, separate the crust into twelve equal balls. One at a time, press and roll the balls into circles about the thickness of a quarter, and spoon a heap of the filling onto it. fold the dough upwards and crimp the edges, keeping the seam on top of the pasty. Beat the egg and brush each pasty, particularly across the seam. Bake at 400 degrees Fahrenheit for about thirty minutes, or until the crust is golden brown.