Way back at the end of last summer, the Rocky River Chamber of Commerce had the idea to hold a fashion show-style benefit for one of its pet charities. Along with a bunch of local stores and designers,
the salon my mom owns
was slated to participate. My sister and I called all our friends to find models, stylists volunteered, people started digging up cake recipes... and then the whole thing was abandoned because they couldn't sell enough tickets in time. My mother, who was probably more enthusiastic than any of the other participants, volunteered to take over the operation, changing the date to February 20, 2009.
Sometime in December my mother abandoned the idea of a catwalk and decided to stage a skit instead: two bridal parties, one classic and classy, the other wild and iconoclastic, would meet at their double-booked reception space. She rented the warehouse part of a studio building for the occasion. Robin Swoboda, a client and news anchor from Channel 8, would be mistress of ceremonies. The tickets not only sold out, but oversold. My sister (the only person in the whole show who'd ever modeled, unless you count work from before I turned six) would be the 'avant garde' bride, in a dress she'd seen at an arts show the year before, by a lovely local (and Hungarian!) designer named
Krisztina Lazar
. I would be on the classic side, spared from being the bride because I complain so much about how I look in white.
The dress I got to wear instead was a Badgley Mischka goddess gown from
Peneventures
, which I may pine over for the next year.
The day of the show, my mother had to pick up me, Elle, Kyle, Josh, and Eric (the boys we'd snared into playing dress-up with us), because Kyle's car had broken at a most inopportune time. Elle rode in the trunk with a statue of St. Francis someone had donated for the silent auction. We spent three hours at the salon, during which Roberta curled, pulled, and pinned my hair into a lovely Victorian-looking coiffure, and the boys and I kept trying to sneak away for drinks at
The Pub
downstairs.
Here are some of the pretty boys (Jimmy, Eric, Josh, Gusty (I think he is very Humphrey Bogart in his white tux, but others said Cary Grant or James Bond), Kyle, and... a very nice boy whose name I completely failed to catch):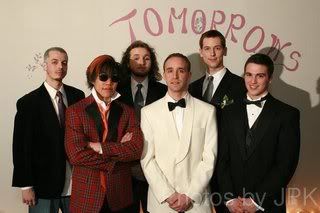 Around four p.m. we packed all twenty-two models, five stylists, ten dressers, and sundry photographers, parents, and siblings into the small room that had been designated dressing space for the event. The boys mostly stood around looking classy while the girls rushed about being made up, gowned, and having last-minute pins added to their hair. There were also a few bottles of vodka floating around. My sister, in layers of tulle and crimped hair, stole the show.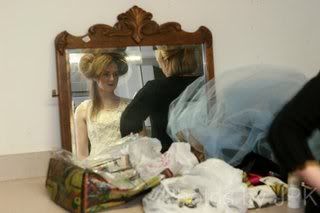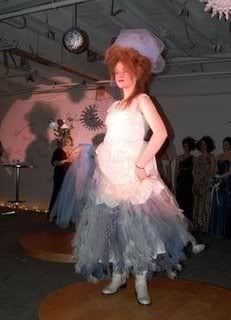 It was all over in a flash. The lights were so bright we couldn't see the audience. Everybody twirled and made their 'model faces' on the three round platforms, and we walked off in classy pairs, the clashing wedding parties, now all fast friends, headed back to the dressing room for more drinks.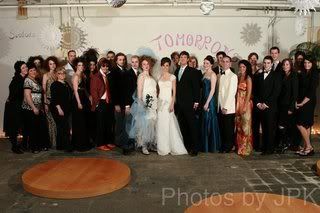 here are some more of my favorite photos. all the pictures link back to the sites they came from, where you can view the rest of the evening.
My sister, her badass groom, and Eric: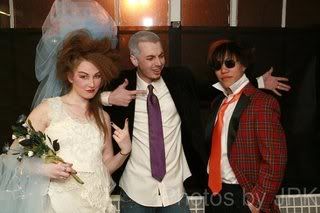 The youngest model looking cooler than most people ever get in their lives: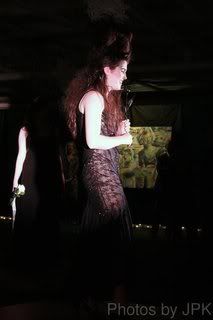 Kyle modeling. He should do this at home, too: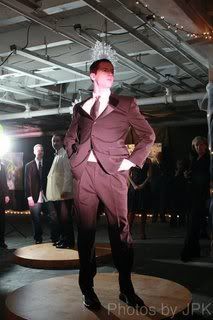 Eddie and I, who matched despite being on opposite sides of the show: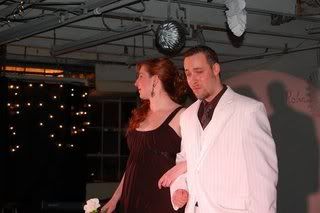 My favorite photos of my sister: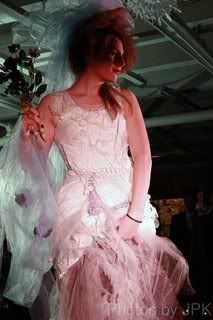 Reszö, Mamma, Robin Swoboda, and George: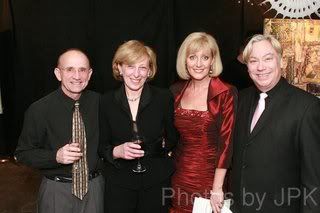 My beautiful sister and mother, and me looking strange in make-up: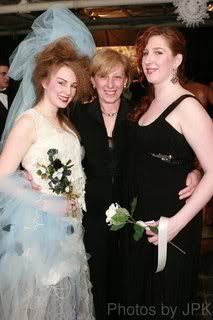 Next year's theme is going to be a masquerade... I'm hoping I'll be able to find my way home for it.